Latest reviews from some of our customers.
From the outset, Garry and Huw have provided us with a first class service. They are reliable, fair and transparent in their pricing, unsurpassed in their communication and have competed our project to an excellent standard whilst working around our complex business needs. Everyone I spoke to at G J Teeson was helpful, friendly and has shown excellent customer service whether it be a building control concern or an invoicing query. We will definitely be instructing them on our next project.
Dale Side Vets - Penyffordd.
You were identified as a potential contractor as we asked DCC to tell us who they used and would recommend. The council wanted to use a local contractor and your company met the bill and came in with the most competitive tender. My experience of using GJ Teeson is 100% positive. The communication between the company and the council has been spot on and the company has delivered on all its promises. The workforce have been friendly and surprisingly very clean and tidy whilst carrying out its work. Considering the abysmal weather the work has been carried out in it is a miracle it was delivered so quickly. The council are extremely pleased with the standard or work, the quality of the path is excellent and surrounding area finishing is very good considering how wet the ground is!
Rhuddlan Town Council
Guy, Huw and Crew.
Having done a lot of research on tarmacking, engaging several companies locally to view, spec and give quotes, the only one I felt comfortable with was from G.J.Teesons Ltd, following last minute recommendation from a friend.
And what a good choice, the work was done methodically and with 100% professionalism. There was communication between Gary and myself to discuss options during the laying and it's great to see the water now run off the drive during heavy rains.
I am more than pleased with the results which has enhanced the entrance to my house.
If you're looking for professional work at a competitive price don't waste time like I did researching the competitors, I would highly recommend you contact Teeson's as your first option.
Gary if you have any pictures feel free to post them on your web site.
Thanks to all for making this project a success.
Dave K
We are very pleased with the work and all 3 of your workers were great and very accommodating working around trying to leave me access in my wheelchair when required. Thanks once again.
Kind regards,
Paul
From my initial meeting with Huw Price and further correspondence with him I found the experience very easy and helpful.
Once we agreed a price to carry out the work I then met with Gary Teeson.
He indicated that there might be some savings to be had if the work was carried out slightly differently from the original plan.
These savings would be passed on to me if that was the case. We shook hands on this.
The work was carried out in a shorter time scale than planned and the quality of the work was first class.
As promised, there was a reduction in cost which was passed on to me.
I would recommend Teeson Ltd 100%
David Jones
Penrhyn Hall Caravan Park.
Hi Garry,
I'd just like to thank you and your team for an outstanding job well done with regards to dropping the kerbs and digging out and stoning the garden to give us off street parking. Hats off to all of you on doing such a great job, I can't thank you enough for all your hard work and be rest assured if we need anymore groundworks we will be calling on yourselves and I would happily recommend G J Teeson Ltd to anyone and will be.
Once again thank you very much and I wish you and your whole team all the very best for Christmas and the coming new year.
Kind Regards
Chris Cartmell
Hi Garry,
Thanks very much for the work you and the lads have done for us, the standard of work is excellent, we are really pleased with the finished job which looks fantastic! Just to add that during the work, communication on progress was clear and the whole team was so polite and professional at all times. I would have no hesitation in highly recommending GJ Teeson Limited.
Thanks for a highly professional job done well!
Best wishes Paul
G J Teeson have prepared our ground and laid tarmac to our sloping driveway area some contractors were unwilling to quote for. G J Teeson's website was very good which showed how experienced they were and their price was very competitive. Gary and his team arrived exactly as arranged and carried out the work professionally with no fuss. Gary kept us updated often throughout the day with photographs and we could see it take shape. We are very impressed with the driveway and how tidy it was afterwards. Even the neighbours commented on how good they all were.
Thanks again-I would not hesitate to recommend your company to friends and family.
Mr.&Mrs Sharp (April 2021)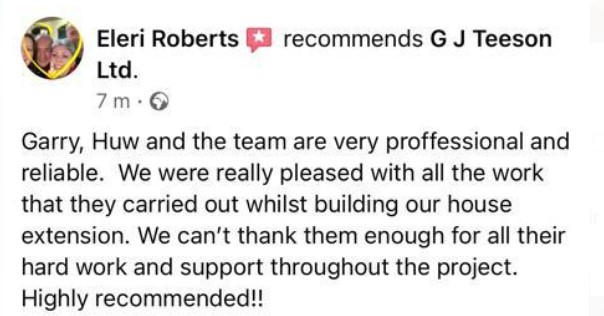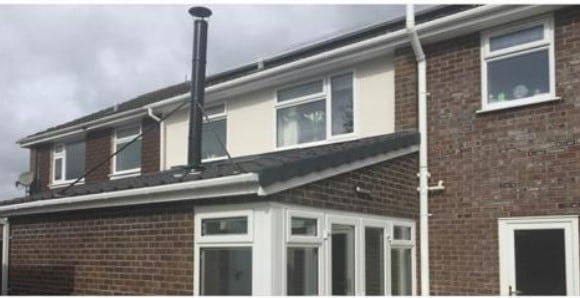 Hi Garry,
I must take this opportunity to express how pleased Lesley and I are that we chose G J Teeson Ltd. to lay the tarmac in our front and back gardens. You and all the lads have been exemplary. Throughout the whole process, from preparation to completed job we couldn't have been happier. The quality of the workmanship, the work ethic and the care and politeness from everyone has been first class, and I'm sure that you must be very proud and pleased that they represent you and your company so well. We also thought you offered excellent value for money and were very impressed by your completely open and honest approach to the costing process. No wonder that every time you do a job, word of mouth brings in further work. As Arfon says, it won't be long before you open a depot in Llanarmon just for the people in the village!
To say we are happy would be an understatement, thank you and the lads very much indeed! I have sent a separate email with a link to wetransfer that will allow you to download some of the pictures I took. Feel free to use any of them on your website/facebook page. If you or any of the lads want prints or framed prints, let me know.
Thanks again,
Melvyn and Lesley (March 2021)
Hi Gary
Thank you very much for resurfacing our drive. We expected hassle at some stage but it all went very smoothly (no pun intended)! You kept us informed before the job, we didn't need to get involved during the job, and you left everything in good order to our satisfaction and to a very high standard. We would have no hesitation in recommending you to other homeowners.
Sue Dennehy - Feb 2021
First of all I would like to thank everyone who was involved with the patio and paths work around our house. From the planning stage - informing of when work would commence through to the actual work and the completion of the various tasks your work force has been excellent in terms of attitude and overall professionalism. Communication and information provided by the team of three who did the work was excellent – they are a credit to your company. The completed work carried out was above our expectations and we look forward to making use of the outside areas of the house – weather and climate willing!
Diolch yn fawr iawn i pawb.
Bob and Jean Ellis.
Thank you for completing the driveway for us. Your team were very good and have done a nice neat job. We are very pleased with the results.
Kind Regards
Tony Coates
We were very happy with the standard of work and attention to detail from start to finish. The visits before commencing work ensured a smooth start to the project and also provided us with ideas that gave us a better finish to the work compared with our original plans. The work was carried out quickly, with great attention to detail and we were consulted before any significant decisions were made. We were very happy with the finish of the work, and will be using Teesons again. I have no hesitation in recommending Teesons for groundwork projects.
Regards
Peter
We were so happy with the work that GJ Teeson Ltd did tarmaccing (or however you spell it) our yard that we have used them to put a new floor in our barn and a concrete area for our horses. We have also booked them to do groundwork for an important project starting next year. We feel very confident about their level of professionalism and it was a pleasure to have such polite and friendly workers around the farm. There was minimum disruption caused, particularly given the scale of the work being carried out. The work was started punctually each morning and finished well within the time scale predicted on both occasions. They were flexible regarding small ideas and additions we had that as the work was progressing and always confirmed we were all on the same page before progressing to the next stage. The areas where the work was carried out and the surrounding areas were left immaculate once they'd finished, which was a nice conclusion to excellent work. We look forward to the next project with them.
Thanks,
Liz - Nov 2020
Garry,
Thanks for doing the work on my driveway for me, and I have no objection to you posting some pictures of the job on your website. I have to say that I was very pleased and impressed by the way the work was carried out. The organisation and professionalism was excellent and the few unforeseen problems with the drainage were taken care of without much difficulty. Your workforce were excellent and all the neighbours commented on how hard they had worked. All this done under the watchful eye of a retired Civil Engineer! It was a quality final result and I would have no hesitation in employing you again or recommending you to anyone else. Regards and thanks
Ken & Lyn (September 2020)
The drive looks very good thanks, we are very happy with it.What was good was the promptness of the visit after the initial contact, then the quote/estimate came through soon after and the work was done when you said. To me, reliability counts for a lot, and we already had friends recommending you – it is the standard of service as well as the work that was good. The website was helpful and the fact that you sponsor the rugby club does count for something.
Neil - August 2020
G J Teeson Ltd completed my domestic driveway with the highest level of efficiency and professionalism. The whole team are friendly, flexible and willing to accommodate any ideas and their attention to detail was second to none. Their advice was very helpful and gratefully received. The whole process was carried out with the minimum of disruption and fully complied with all Covid 19 requirements. I highly recommend this company without reservation.
Andy and Les Wilson - July 2020
I would like to say thank you very much for the work done, I am very pleased with the finished job.
I contacted G J Teeson Ltd. and Huw was here on the day and time specified, he then very promptly sent us a quote, I did change the job slightly and it wasn't a problem for Huw to return and give me another quote. I agreed with the quote and within a couple weeks you were here doing the work, the guys doing the work were very pleasant, hard working and efficient. The finished job was really impressive. I will be requiring more work to be done in the future and will be contacting you when needed.
Thanks again Shaun Turner - June 2020
We were very impressed with the work you carried out on our property and are extremely pleased with the finished result. We also liked the way your employees conducted themselves; they had lovely manners and were courteous and helpful. We wouldn't hesitate to recommend your company and would definitely use you again in the future.
Kind regards
Deb and Chris Darkes - May 2020
'We have worked with G J Teeson Ltd for over 5 years on many of our commercial projects. They are honest, straightforward, and trustworthy. The quality of their work is excellent, and we have always found their collaborative approach to be consistent with our own business principles''
Wiliam Jones, Read Construction
Couldn't be happier with our tarmacked driveway. Excellent standard of work from Garry and his team. Great attention to detail and always checking that we were happy with the job as it progressed. Wouldn't hesitate to recommend them, a great company to work with.
Thanks
Annie and Kev
Hi Garry,
Just wanted to drop you an email to thank you and the guys for a great job. It has been a pleasure to work with you and the team, this has been a big project for us and from when we started with the ground works over a year ago the process has been great. As much as we have planned the detail there is so much 'un planned' scenarios that crop up, your guys are always accommodating and take the challenges in their stride with no fuss. We have ended up with a better design and overall look due to their input and experience.
Thanks again…until the next project!
Regards,
Russ
Very impressed with the professionalism of your company and employees, please feel free to use the photographs as you wish.
Regards
Gareth
© Copyright G J Teeson Ltd